Take Pizza Orders Over the Phone
~ Become a Service Provider Today!
Service Providers are self-employed contractors, working remotely from their home. They provide pizza order taking service on behalf of our client Pizza Pizza Ltd.
Independent Service providers supply their own PC, headset, internet connection, office supplies and a quiet office space without interruptions. We provide the software, training and incoming calls.
Enjoy the benefits of being a self-employed contractor, working from home!
OUR CLIENT PROFILE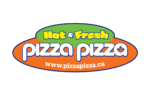 Pizza Pizza Ltd., a Canadian leader and innovator since 1967. As a restaurant, pizza maker, employer, business partner and caring company, Pizza Pizza Ltd. delivers. Pizza Pizza Ltd. network is composed of more than 500 restaurants and 3,000 partners. They provide a flavourful, varied and high-quality menu to Canadians of all ages and tastes. As a result, this organization has become a leader in the quick service segment of the Canadian food service industry and one of the top pizza restaurant chains in the country.
Their pledge – "Always the best food, made especially for you" – is paramount in everything they do. It's their assurance to their customers that they value the quality of the service, product and experience they offer, and the freshness of their ingredients.
With a growing menu selection and restaurant network, Pizza Pizza Ltd. continues to serve Canadians on the go who are not willing to sacrifice taste for quality and balanced options. In the last year alone, Pizza Pizza Ltd. has fulfilled more than 28 million orders and participated in events attended by more than 15 million people.